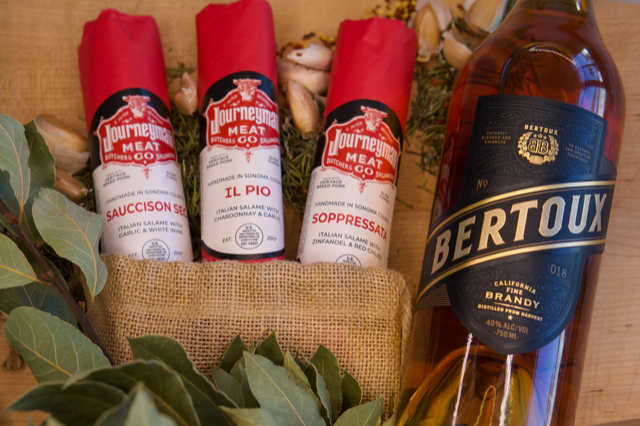 Special

This unique gift is the perfect way to celebrate!
BERTOUX Brandy and Journeyman Meat Co. have paired together to showcase the versatility and expressiveness of California.
About BERTOUX and JOURNEYMAN MEAT CO.
BERTOUX is a fine Brandy from California designed for cocktail applications with a vibrant, aromatic, fruit-forward, and layered profile. Utilizing a Solera Style method for blending and aging, BERTOUX's Master Blend is comprised of elegant pot?distilled California Brandies, aged from 3 to 7 years in French and American oak
Vintner and Winemaker Peter Seghesio began Journeyman Meat Company to honor the traditions handed down by his father. Once the grape harvest was complete, the family began planning food for the winter. The salumi would dry in the winery just in time for holiday gift giving. Today, Seghesio crafts salumi drawing on his family's recipes and the knowledge he garnered from 5 years of internships with Italian masters. Handmade in California's wine country with the finest Italian curing equipment, Journeyman salumi is the perfect pairing with its California counterpart, BERTOUX. For this gift experience, Seghesio chose three salumi to pair with BERTOUX in a cocktail or simply on its own.